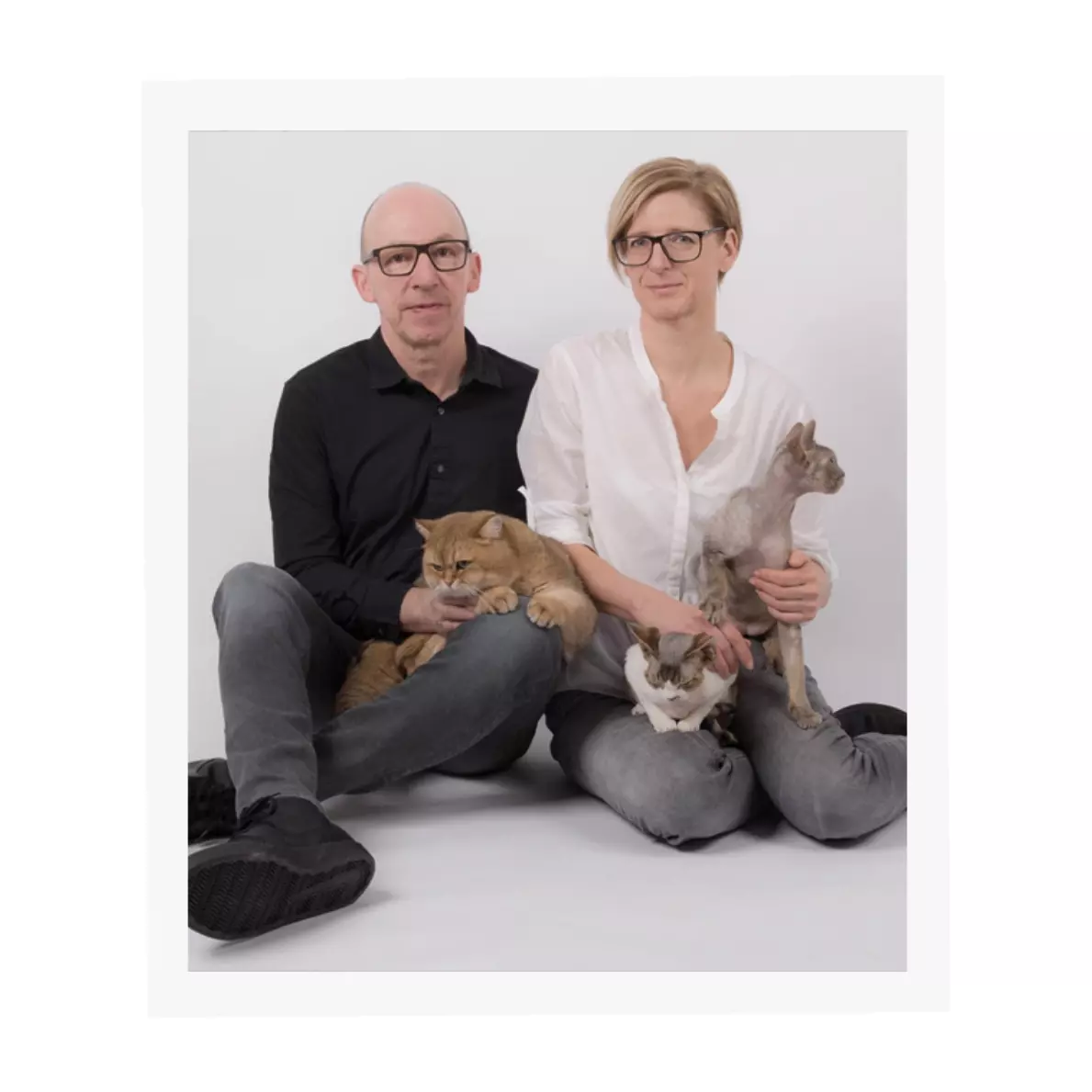 About Us and Our Passion for Cats
As a German manufacturer that has been passionately dedicated to cats and their needs for over 20 years, we take pride in offering high-quality and sustainable products "Made in Germany."
Our premium and sustainable products are crafted with meticulous attention to detail, providing both cats and their owners a comfortable and enriching coexistence. Through our close collaboration with suppliers and the support of our four-legged models Maja, Boris, Lilly, and Assol, we have successfully established our brand in the market.
Driven by our genuine love for cats and our commitment to cat-friendly accessories, we are delighted to contribute to the world of felines under the motto "Profeline – Out of Love for Cats."
Unser Bestreben

Unser Ziel ist es, eine einprägsame Markenbotschaft für unsere Produkte zu gestalten, die ein Katzengesicht auf einem Hintergrund in Himbeerfarbe und Türkis präsentiert. Diese Kombination zieht alle Blicke auf sich und spiegelt unsere Leidenschaft für Katzen deutlich wider. Unsere duftenden Katzenspielsachen werden sorgfältig luftdicht verschweißt, um sicherzustellen, dass die verlockenden Düfte von Katzenminze und anderen natürlichen Aromen erst freigesetzt werden, wenn Ihre Katze bereit ist, sich ins Spiel zu stürzen. Produkte ohne Duft sind auf nachhaltigen Kartonagen angebracht, die nicht nur die Umwelt schützen, sondern auch ein Bewusstsein für unsere Verantwortung gegenüber der Erde fördern sollen. Das vertraute Katzengesicht, welches unsere Marke repräsentiert, zusammen mit dem Slogan "Out of Love for Cats", sind stets präsent und erinnern daran, dass wir unsere Liebe zu Katzen mit einem respektvollen Umgang gegenüber der Natur verknüpfen. Für eine einfache Zuordnung der Produkte verwenden wir besondere Sticker, die Ihnen helfen, das ideale Produkt für Ihre Katze auszuwählen. Unsere Marke verkörpert Qualität, Engagement und Katzenliebe.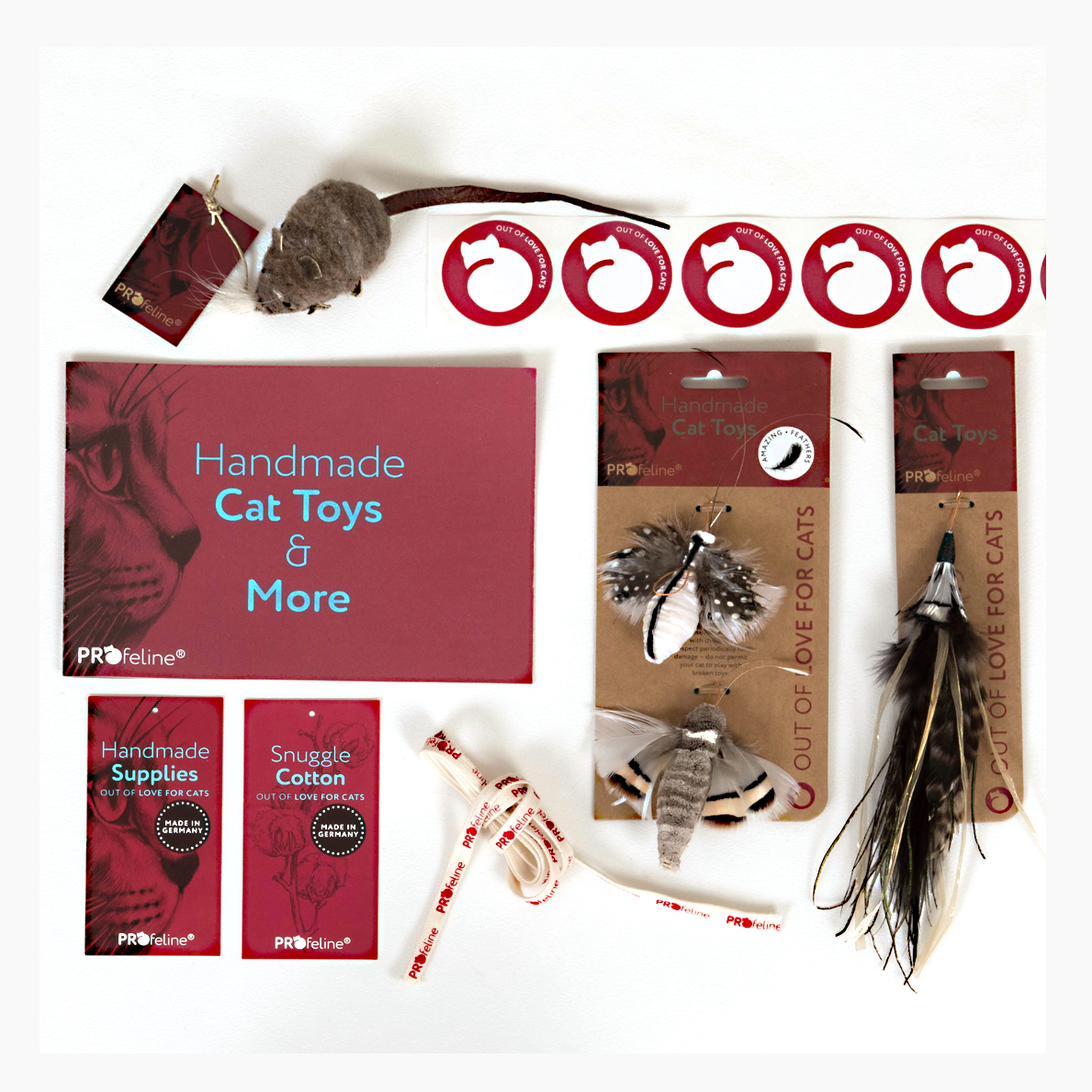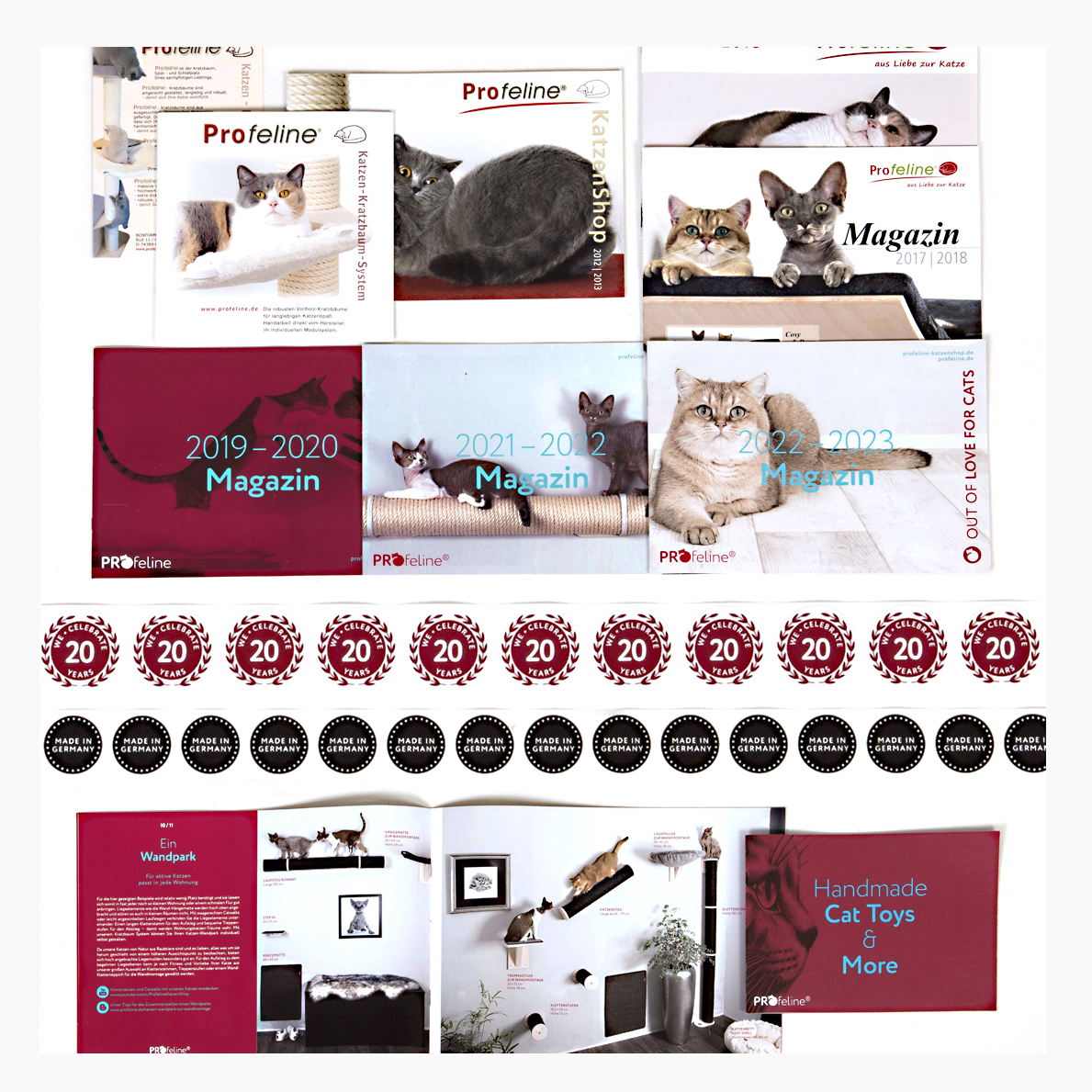 20 Years of Profeline
Our cat shop for cat accessories has been in existence for an impressive 20 years. With a focus on scratching trees, beds, and cat toys, it reflects our understanding of the relationship between humans and cats. At Profeline, we are passionately dedicated to making the coexistence of cats and their owners even more beautiful. Our focus is on cat-friendly accessories and creating spaces where cats can play, relax, and express their natural instincts.
"Made in Germany" is our hallmark of quality and authenticity. Every product is crafted with attention to detail to meet the highest standards - from material selection to craftsmanship. In close partnership with suppliers, we adhere to ethical and ecological standards. Our products are durable and environmentally friendly - a matter of the heart for us.
Our mission is supported not only by our dedicated team but also by our charming ambassadors Maja, Boris, Lilly & Assol. Their preferences and needs inspire us in designing our products to ensure that they are not only functional but also aesthetically appealing. Together, we create a harmonious environment where cats and their owners can form an enriching bond.
Our World