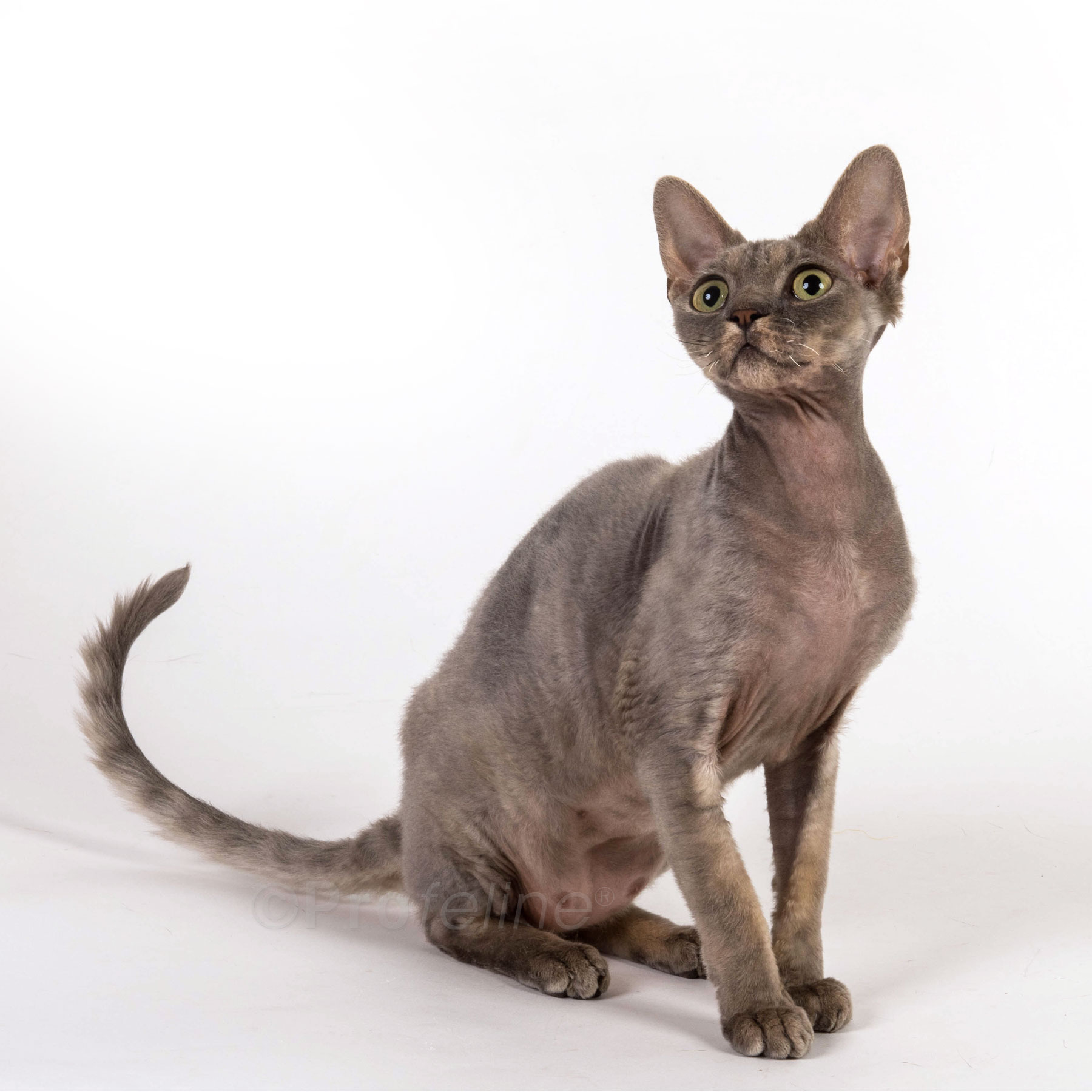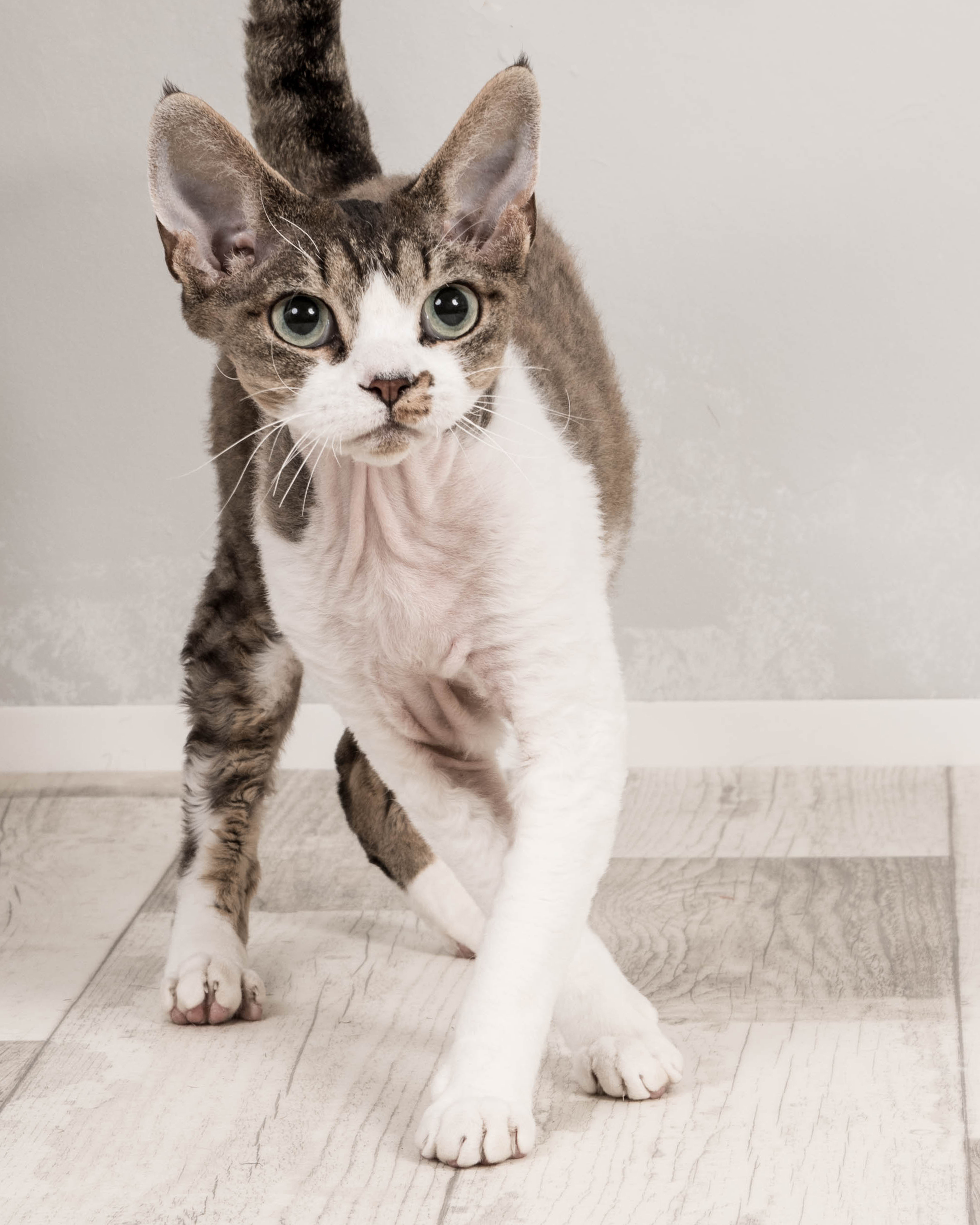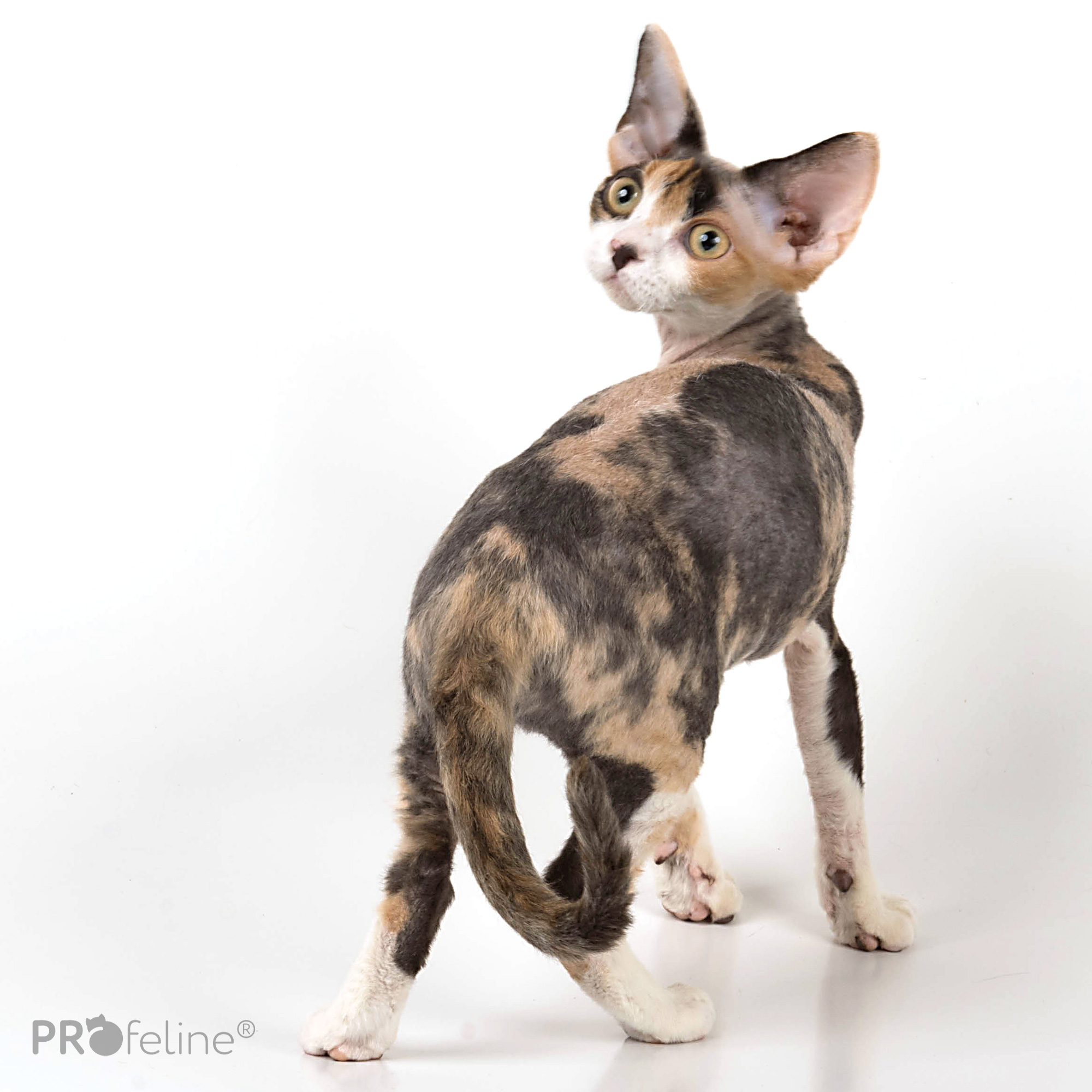 The Devon Rex CAT


The Devon Rex is a captivating and affectionate cat breed known for its curly coat, large wedge-shaped ears, and friendly disposition. Its short, soft fur is waved in tight curls, creating the impression of a "curly coat." The color palette ranges from solid to spotted and striped variations.
The remarkable large ears of the Devon Rex are set wide apart and are often adorned with tufts of curly hair. Their large eyes contribute to their curious and attentive expression.
The Devon Rex is recognized for its sociable and amiable nature. These cats are highly people-oriented, enjoy the company of their owners, and often approach other pets and strangers openly. Their playful and curious demeanor makes them entertaining companions.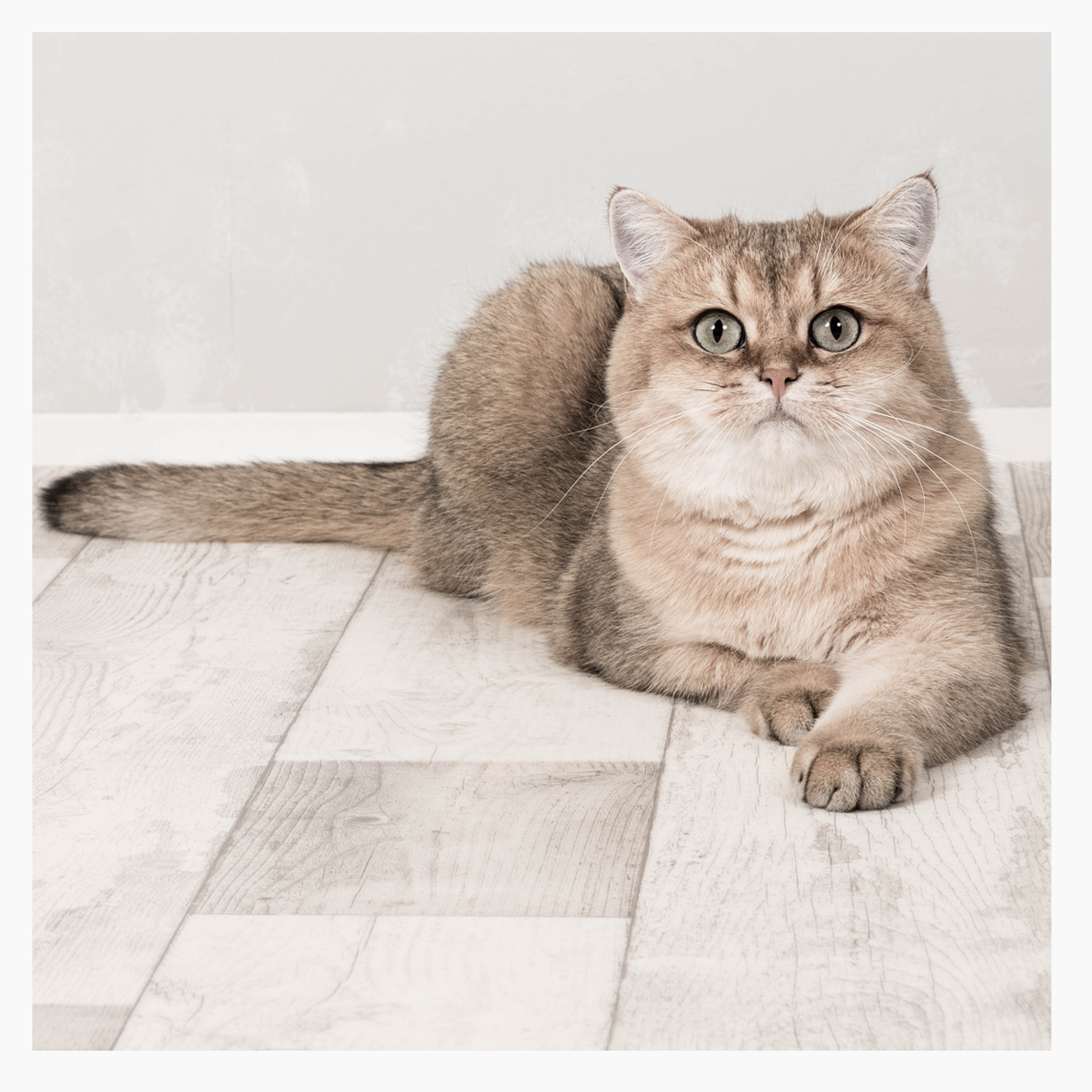 The British Shorthair CAT

The British Shorthair Cat in the Golden Shaded color variant presents itself as an impressive breed with a special charm. Its dense, short coat is held in a fascinating golden hue, accentuated by black tips and equally black paws. The round facial shape and large, shimmering green eyes give this breed a distinctive and enchanting appearance. These cats are characterized by their calm and balanced personality. They possess a friendly and affectionate nature without being overly demanding. Their composed nature makes them ideal companions for a variety of households—be it lively families or single individuals.


Boris und FEDERN

Unser charmanter
Devon Rex Kater Boris
ist ein wahres Energiebündel, das in unserem Zuhause stets für Unterhaltung und Freude sorgt. Seine unbestrittene Leidenschaft sind Federn in jeder Form und Farbe. Es ist faszinierend zu beobachten, wie er sich mit einer fast magnetischen Anziehungskraft zu diesen flatternden Schätzen hingezogen fühlt. Seine Augen leuchten vor Aufregung, und seine Pfoten setzen sich in Bewegung, sobald er nur das kleinste Flattern wahrnimmt. Um Boris' Begeisterung für Federn zu nutzen und seine aktive Natur zu befriedigen, haben wir eine ganze Sammlung von Ersatzanhängern, die mithilfe eines Karabiners leicht an Katzenangeln angebracht werden können. Dieses geniale Design ermöglicht es uns, die Anhänger schnell auszutauschen und somit immer wieder neue Reize für Boris zu schaffen. Boris ist zweifellos einzigartig, und seine Liebe zu Federn sowie die Freude, die er beim Spielen mit seiner Katzenangel empfindet, sind charakteristisch für seine lebhafte Persönlichkeit. In seinen ausgelassenen Spielmomenten zeigt er seine unbändige Energie und den unverwechselbaren Charme, der uns alle verzaubert.
ERSATZANHÄNGER FÜR KATZENANGELN
Maja und FELLSPIELZEUG

Unsere liebenswerte Britisch Kurzhaar Katze, Maja, hat eine ganz besondere Vorliebe für echtes Fellspielzeug aus Kaninchenfell. Es ist faszinierend zu beobachten, wie sie sich mit solchem Spielzeug beschäftigt, als würde sie die Jagdinstinkte ihrer wilden Vorfahren wiedererwecken. Was Maja jedoch besonders bevorzugt, ist ihre Leidenschaft für Spielzeug, das nicht nur aus hochwertigem Kaninchenfell gefertigt ist, sondern auch mit einer erlesenen Mischung aus Katzenminze und Baldrian gefüllt ist. Diese duftende Kombination weckt nicht nur ihre Neugierde, sondern entfacht auch eine spielerische Energie, die in wildem Kämpfen und Rupfen Ausdruck findet. Es beruhigt uns daher zu wissen, dass die Felle, die Maja so begeistern, in Deutschland geerbt und gefertigt werden. Diese sorgfältige Herkunftsgarantie stellt sicher, dass wir Maja nur das Beste bieten. Die Wahl von Spielzeugen, die mit Bedacht hergestellt werden, zeigt unsere Verantwortung für das Wohlergehen der Tiere und unser Bemühen um das Tierwohl.
NATURMATERIALIEN FELLSPIELZEUG
Lilly die SCHMUSEKATZE

Lilly, unsere bezaubernde Schmusekatze, hat sich mit ihren liebevollen Eigenschaften einen festen Platz in unseren Herzen erobert. Ihre Vorliebe für Kuscheln und Schmusen ist unübertroffen. Sie zeigt diese Zuneigung nicht nur in unseren ruhigen Momenten der Nähe, sondern auch im Spiel mit ihrem geliebten Katzenspielzeug. Besonders faszinierend ist Lillys Begeisterung für Katzenspielzeug, das mit dem verlockenden Duft von Catnip und Baldrian gefüllt ist. Sobald sie den charakteristischen Geruch wahrnimmt, werden ihre Aufmerksamkeit und Neugierde augenblicklich geweckt. Das Spielzeug verwandelt sich in den Mittelpunkt ihrer Welt, und sie taucht voller Freude und Begeisterung in ein Spielvergnügen ein, das uns alle mitreißt. Unsere bewusste Auswahl an Spielzeugen, gefertigt aus Biobaumwolle, bietet Lilly nicht nur stundenlange Unterhaltung, sondern auch ein sicheres und umweltfreundliches Spielerlebnis. Sie kann bedenkenlos herumtoben, knuddeln und lieben, ohne dass wir uns um ihre Sicherheit sorgen müssen.
Assol und lange FEDERWEDEL

Unsere kleine Devon Rex Katze namens Assol ist ein echter Wirbelwind voller Energie und Lebensfreude. Ihr neugieriger Charakter und ihre verspielte Natur machen sie zu einem bezaubernden Haustier. Assol liebt es, wenn wir mit ihr gemeinsam spielen. Sie ist regelrecht fasziniert von Federwedeln und gefilzten Schlangen, die sie mit ihren schnellen Bewegungen und ihrer wendigen Agilität jagt. Besonders Federwedel fangen ihre Aufmerksamkeit im Nu ein. Mit ihren großen Ohren, die neugierig zucken, verfolgt sie jede Bewegung des Federwedels und springt mit beeindruckender Geschwindigkeit und Präzision darauf zu und jagt dem Federteil hinterher. Genauso begeistert ist Assol von gefilzten Schlangen, an denen sie ziehen und zerren kann. Dieses Spielzeug bietet ihr die Möglichkeit, ihre Kraft und Geschicklichkeit unter Beweis zu stellen. Assols Freude am Spielen ist ansteckend und bringt Leben in unser Zuhause. Ihre lustige Persönlichkeit und ihre unermüdliche Energie sorgen dafür, dass kein Tag langweilig wird. In ihrer Gegenwart ist stets Bewegung und Freude, und wir sind dankbar, solch einen lebhaften Wirbelwind wie Assol an unserer Seite zu haben.